I purchased my Goyard Artois MM (medium size) tote eight months ago, and I have used this bag exclusively for travel since then. The MM is too tall to fit upright in the storage space under airplane seats, even in business class. Therefore, when stowing my bag, I either fold the top part over, or place her on her side. I have not been gentle with this bag. She has seen a lot of miles on numerous vacations, and I am happy to say that she still looks great.
Goyard Artois MM, Sky (Light) Blue, Dimensions and Price:
19 inches L across the top, 16 inches L across the bottom

11.25 inches H x 6.5 inches W

Strap Drop 10 inches

$2645, November 2018
I switched from the Saint Louis to the Artois MM following a disastrous trip through airport security, where everything fell out of my Saint Louis on the x-ray belt. My husband said that I needed something with a zipper for travel, and I couldn't agree more. Here's a picture of everything I carry in my Artois MM when I travel. As you can see from the pictures, there's still room inside for a jacket or laptop.
I chose sky (light) blue for my Artois MM because I already had the PM in black/tan, and sky blue is such a fun color for travel.
After eight months, I am very pleased with how well my Artois has held up (pictures below). The canvas is still pristine, and the leather straps and trim looks almost new, except for a small scuff mark on one corner. I've also included pictures of my MM and PM together so that you can get an idea of the size difference. The last two photos are of the lovely green shopping bag from Goyard, complete with yellow lining and tissue paper.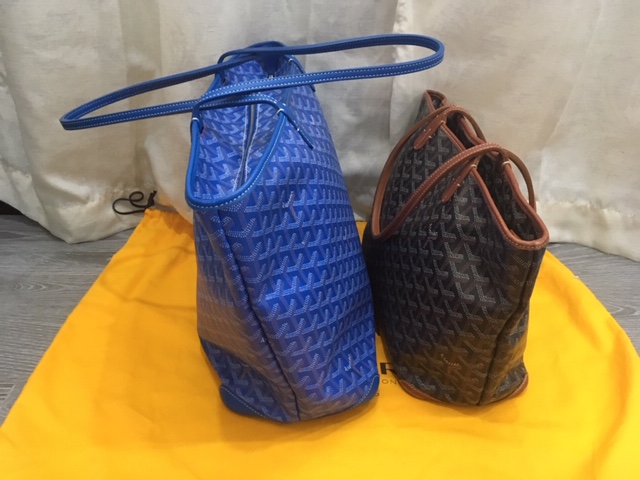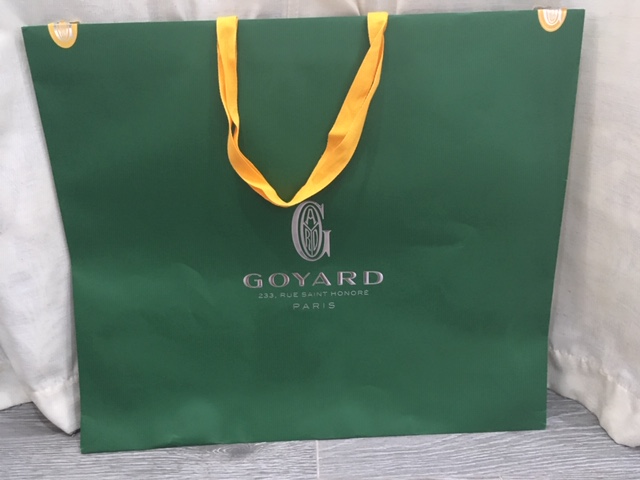 To keep my bags looking good, I use a few items that are available from Amazon.com, a Girls' Guide to Glitz affiliate.
Goyard canvas is painted, and should not be cleaned with leather-care products. I clean the canvas and leather trim with a microfiber cloth. I use purse pillows to keep my bags in shape during storage, and a purse organizer to keep the inside clean.